Hotel Dining
Start and end your day with Toast to Toast – Holiday Inn's fast casual counter service restaurant. From delicious bites to savory sips, Toast to Toast has you covered.
Ask Our Manager's Reception For
IHG Members 10% off on Meal & Bar
Military Special 10% off on Meal & Bar
Summary
Restaurants On-site: 1
Cocktail Lounge
Hotel Restaurants
Toast to Toast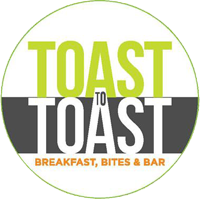 Toast to Toast serves Breakfast and Dinner. Should you get hungry order up room service from our Toast To Toast restaurant or perhaps enjoy the atmosphere inside the restaurant where we have flat panel TVs showing your favorite sports events or shows.
Location: Through the lobby on the left.
Serves: Breakfast, Dinner, Dessert
Hours of Operation: 6:00 AM-12:00 AM
Hotel Bars & Lounges
Top Guns Bar
Sip on your favorite libation from our full bar offering a large selection of draft and bottled beers, wines and liquors.
Location: The bar is located within the restaurant.
Hours of Operation: 5:00 PM - 11:00 PM